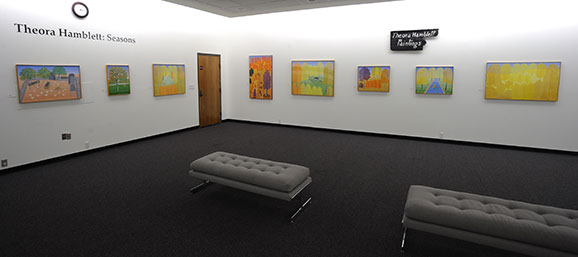 Located between the University of Mississippi campus and the historic square of Oxford, Mississippi, the UM Museum provides an excellent location for a small reception, lecture, meeting, or dinner. Surrounded by the Museum's diverse permanent collection, the event space at the Museum offers an ideal setting for academic and cultural events.
We hope you will consider the Museum as a potential venue for your event. Our primary space available for rental is the Speaker's Gallery, which often features the work of beloved Mississippi artist, Theora Hamblett. This space is ideal for small receptions, dinners, and lectures. The maximum capacity for the room is 50 seated at round tables and 75 in a lecture-style setting.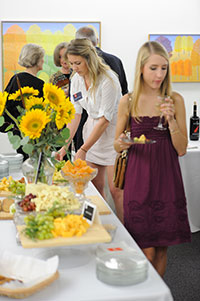 The Museum has rectangular tables, conference chairs, and audiovisual equipment that may be used for your event, though any round tables, linens, and decorations must be acquired separately. As a museum committed to the conservation and exhibition of its collections, facility rentals are arranged solely on a consultation basis in adherence with strict gallery regulations.
Events must be held outside of regular museum operating hours, Tuesday-Saturday, 10 a.m.-6 p.m., unless special permission is granted.
For more information or to inquire about booking a space at the Museum, please contact the Membership, Events, & Communications Coordinator, Rebecca Phillips, by phone at 662-915-7073 or email at museum@olemiss.edu.
Interested in hosting an event at Rowan Oak? Contact Bill Griffith at 662-234-3284.
Click here to view space regulations.
Museum Members receive a 10% discount on facility rentals.
University of Mississippi departments and organizations receive a 50% discount.