To purchase a 2021 Keepsake Ornament from The University of Mississippi Museum and Historic Houses please contact the front desk at 662-915-7073. Each 2021 ornament is $25 and can be shipped within the contiguous United States for $7. Sales tax is required for all sales shipped within Mississippi.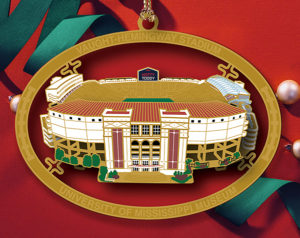 VAUGHT-HEMINGWAY STADIUM
Construction on the Vaught-Hemingway Stadium, officially known as the Vaught-Hemingway Stadium at Hollingsworth Field, began in 1912 and was finished in 1915. Over the past 100 years, the stadium has had many remodels and can now seat an amazing 64,038 people. It is also the largest stadium in the state of Mississippi. The stadium is named for three influential University of Mississippi men. It was named for Judge William Hemingway, law professor and chairman of the committee on athletics, when the stadium first opened. In 1982, the legendary football coach Johnny Vaught's name was added, and in 1998, the field within the stadium was named for longtime supporter of the university, Dr. Jerry Hollingsworth. In every season since the inaugural, the stadium has seen magnificent wins and emotional moments where player s, coaches, and fans gather together in celebration of Ole Miss athletics. Most recently , the university came together to retire the great Eli Manning's number 10. Manning became the third player to have his number immortalized in the stadium, and it hangs alongside Chucky Mullins' number 38 and Archie Manning's Number 18.
Are you a member of the UM Museum? Members receive a 10% discount on all Museum Store purchases, including keepsakes! Please visit museum.olemiss.edu/join-the-museum for more information!