To purchase a 2022 Keepsake from The University of Mississippi Museum and Historic Houses please visit the UM Museum Store. Hours are Tuesday-Friday 10am-4pm. Each 2021 ornament is $25 and can be shipped within the contiguous United States for $10. To purchase a keepsake to be mailed, please call the front desk at 662-915-7073. Sales tax is required for all sales shipped within Mississippi. The deadline for shipping orders is December 15th.
60 YEARS OF INTEGRATiON, 1962-2022
On October 1, 1962, The University of Mississippi was officially integrated with the enrollment of its first African American student Mr. James Meredith. Through his bravery and perseverance, Meredith became an inspirational leader of the American Civil rights Movement. A statue of James Meredith, erected adjacent to The Lyceum in 2006, now commemorates the integration of The University of Mississippi.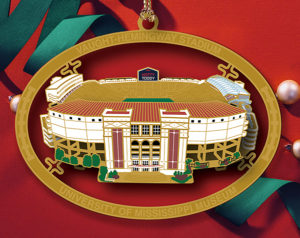 Limited Re-Release of the 2021 Keepsake: VAUGHT-HEMINGWAY STADIUM
This UM landmark is named after the late Judge William Hemingway, law professor and longtime chairman of the University Committee on Athletics, and former head coach John Howard Vaught. The stadium is the largest in Mississippi and holds the football game attendance record in the state.
Are you a member of the UM Museum? Members receive a 10% discount on all Museum Store purchases, including keepsakes! Please visit museum.olemiss.edu/join-the-museum for more information!