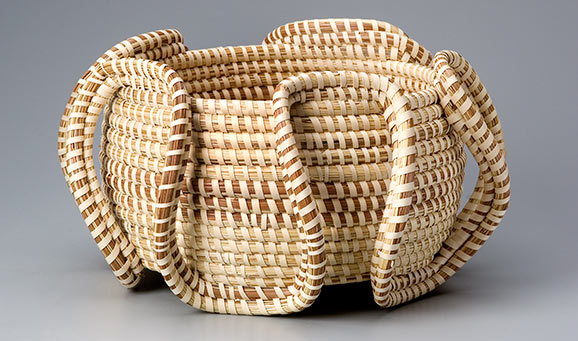 NOVEMBER 13, 2012 — JANUARY 11, 2013
This exhibition traces the histories of coiled basketry in Africa and America and explores the evolution of an ancient art. Featuring baskets from the low country of South Carolina and Georgia as well as from diverse regions of Africa, the exhibition traces the story of coiled basketry from the domestication of rice in Africa, through the trans-Atlantic slave trade and the Carolina rice plantation, and then into the present day.
Visitors will experience diverse artifacts including baskets, basket-making tools and, historic rice cultivation artifacts. Grass Roots highlights the remarkable beauty of coiled basketry and shows how the market basket can be viewed simultaneously as a work of art, object of use, and container of memory. In this exhibition the humble but beautifully crafted coiled basket, made in Africa and the southern United States, becomes a prism in which audiences will learn about creativity and artistry characteristic of Africans in America from the 17th century to the present.
The exhibition has been made possible by NEH on the Road, a special initiative of the National Endowment for the Humanities. Grass Roots: African Origins of an American Art was organized by the Museum for African Art in New York City in collaboration with the Avery Research Center for African American History and Culture in Charleston, SC. It was co-curated by Chief Curator Enid Schildkrout, Museum for African Art, and Curator and Historian Dale Rosengarten, College of Charleston. The exhibition is toured by Mid-America Arts Alliance through NEH on the Road. NEH on the Road offers eight different exhibitions for small to mid-sized communities across the country. Mid-America Arts Alliance was founded in 1972 and is the oldest regional nonprofit arts organization in the U.S. For more information, visit www.nehontheroad.org or www.maaa.org.
Admission to this special exhibition is $5 for the general public, $4 for senior adults, and $3 for students (ages 6-17). Admission is always free for UM students, UM Museum Members, and children under the age of five.