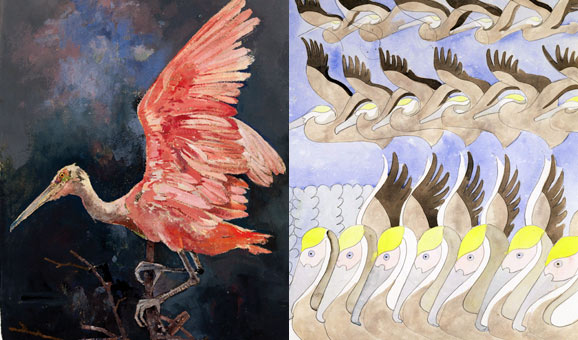 August 23 – December 3, 2011
Opening Reception: Thursday, September 22, 2011, 5:00  –  7:00 p.m.
The work of Southern artists is often infused with a deep sense of place and time. Whether inspired by the small-town of the artist's birth, the land, the waters – be it river, lake or sea – the music, the people or even the animals, that sense of place shows up in subtle, surprising or literal ways, unique to each artist. One World, Two Artists will attempt to show how the Gulf Coast was a shared source of inspiration to two native artists: John Alexander and Walter Anderson.
Born in 1945 in the coastal town of Beaumont, Texas, John Alexander grew up in a region heavily influenced by Cajun, Creole and African-American cultures. The natural environment of coastal Texas and Louisiana was an early and persistent inspiration for Alexander's work.
Walter Anderson was born in 1903 in New Orleans, Louisiana. He was a painter, potter, writer and naturalist, who spent most of his life working in or around his family's business, Shearwater Pottery, in Ocean Springs, Mississippi. A small, undisturbed barrier island, Horn Island, became his refuge and main source of inspiration. Years later, John Alexander would visit Horn Island, also chasing this shared muse.
The University of Mississippi Museum is proud to present this exhibition in collaboration with the Ogden Museum of Southern Art of two artists from different eras and places in the South—but both attuned to their surroundings, bringing forth beauty through their expressive talent.