Visitor News
Rowan Oak has welcomed 6,744 visitors sinceMay and hosted several events including the Friends of the Museum's annual banquet and fundraiser, the Harvest Supper, on October 10th. Also of note, former Senator Trent Lott and former Senator Phil Gramm of Texas visited Rowan Oak on October 11th and the next day Texas Governor Rick Perry stopped by for a visit. Rowan Oak also hosted a catered picnic lunch for Senator Cochran's staff on October 18th.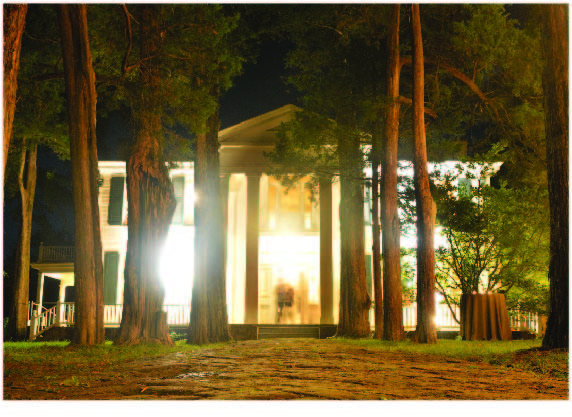 The staff of the popular NPR/PRI radio program "Whad'Ya Know" with Michael Feldman visited on September 27th with local celebrity Kaye Bryant, which was a lively affair.
A southern literature seminar from Colorado College visited Rowan Oak for a week in September where they had a seminar on the grounds that discussed time and characters in Faulkner's novels. They also toured the area including Elvis' Graceland, the opposite end of historic house management, but agreed that Rowan Oak was their favorite.
On Saturday, September 7, 150 Chi Omega alumnae from New York to California and many states in between, plus collegians from Tau chapter at Ole Miss enjoyed a glorious fall day with lunch on the grounds of Rowan Oak. They were hosted by Friends of the Museum Board member Mary Ann Frugé. Many of the guests arrived via a walk through Bailey's Woods and delighted in the trail as well as the first view of the home and grounds. A Southern picnic lunch of fried chicken, pimento cheese, biscuits and other treats as well as strawberry shortcake catered by Elizabeth Heiskell was enjoyed by all. Rowan Oak curator Bill Griffith presented an educational program about Rowan Oak and Mr. Faulkner. Following lunch, guests toured Rowan Oak and left with an enhanced respect and admiration for Faulkner and his home.
Restoration of the Sunken Garden
Evelyn and Michael Jefcoat of Laurel, MS have committed to help fund the restoration of the sunken garden at Rowan Oak. We are in the very beginning stages of this project but are excited to get it under way. Kevin Risk, LSU landscape architecture faculty, wrote the cultural historic landscape report for Rowan Oak and has agreed to advise us on this very ambitious project. The Jefcoats previously funded the reconstruction of the gazebo at Rowan Oak. The original gazebo was flattened by a fallen tree in the mid 1980s. We cannot thank the Jefcoats enough for their past support and continued confidence and enthusiasm for Rowan Oak.
Faulkner News
The 2014 Faulkner Conference will discuss Faulkner and History. It will take place July 20–24, 2014 at the University of Mississippi. This is the 41st anniversary of the annual conference.
James Franco's AS I Lay Dying premiered at the historic Lyric theatre on October 21st to a packed house. It is available for purchase on iTunes after October 22 and releases on DVD November 5th. The film was well received by the crowd and certainly raised Faulkner awareness around town.