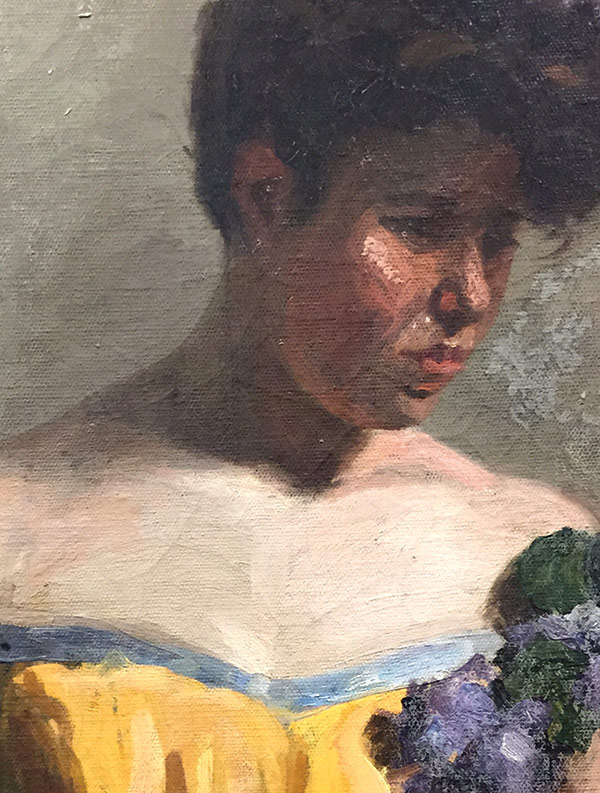 Thursday
November 5, 2015
noon–1:00 p.m.
Please join us for a brown bag panel discussing the life and work of the often overlooked artist, Kate Freeman Clark.
PANELISTS
---
Bea Green
I have lived in Holly Springs almost all of my life and I am a founding member of Belles and Books Club which is a support group for the KFC Art Gallery.
Many years ago, I was appointed by the court system as a Trustee for the KFC Gallery and was responsible for putting together the board and starting a more formal arrangement for taking care of the painting of Miss Kate. I am also a former student of hers.
---
Walter Webb
Graduate of University of Mississippi – BA in Journalism & Business Administration
Executive Director of the Mississippi Press Association
Editor & Publisher, The South Reporter, Holly Springs – 21 years
Communications Director, healthcare management company
Owner Webbgraphics, graphic design and web development firm
Director, Kate Freeman Clark Art Gallery
---
Jimmy Thomas is the Center for the Study of Southern Culture's associate director for publications. He holds a bachelor's degree in English and philosophy and a master's degree in Southern Studies, both from the University of Mississippi. In 2003 he began work as managing editor of the 24-volume New Encyclopedia of Southern Culture, including the Art and Architecture and Folk Art volumes. Other publications include the forthcoming Conversations with Barry Hannah and volumes in the Faulkner and Yoknapatawpha Series. In 2013 he guest-curated the exhibition Independent Expression: Self-Taught Artists of the Late 20th Century for the University Museum.
---
Carolyn J. Brown is a writer, editor, and independent scholar. She attended Duke University and then the University of North Carolina-Greensboro for her Master's and Ph.D. A Daring Life: A Biography of Eudora Welty is her first book. It was selected by the Mississippi Library Commission to represent the state of Mississippi at the National Book Festival in Washington, DC in 2012, and won the Mississippi Library Association's Award for Nonfiction in 2013. She published her second biography, Song of My Life: A Biography of Margaret Walker, in November 2014, which has just won the Mississippi Library Association's award for Juvenile Literature. Brown has published articles in several journals, including Notes on Mississippi Writers, College Language Journal, the Eudora Welty Review, Persuasions: The Jane Austen Journal, Study the South and The Journal of Mississippi History.
---
Thomas Dewey holds B.A. and M.A. degrees in Art History from Southern Illinois University and a Ph.D. in Art History from the University of Wisconsin. Dewey's narrowest research focus is contemporary American printmaking and drawing. He has taught at Wisconsin State University, Oshkosh and is currently an Associate Professor at the University of Mississippi. Dr. Dewey teaches twelve courses in Art/Architectural History, pertaining to Europe and the U.S., 19th through 21st centuries and one studio art course on The Craft of Old Master Drawings. He has presented more than 50 research papers at regional, national and international conferences. Among his nearly 70 publications are, catalogue essays, documenting several national and international ground breaking contemporary print exhibitions. As Archivist since 1978 for Southern Graphics Council International (SGCI), Dewey is the caretaker for the SGCI members print collection that now numbers 7,000 works on paper. Professional recognition/honors include president of the Southern Graphics Council; election to and then president of Phi Kappa Phi, an academic honor society at Ole Miss; a Lifetime Honorary membership to Friends of the J.D. Williams Library (a support organization) at The University of Mississippi; and a Lifetime Service Award from Southern Graphics Council International. Dr. Dewey's most recent scholarship includes: Audubon in Mississippi for the Mississippi Encyclopedia, University Press of Mississippi with a late 2012 or early 2013 publication.
---
Annette Trefzer is Associate Professor of English at the University of Mississippi. She teaches classes on American Literature specializing in Southern literature and culture. She is the author of Disturbing Indians: The Archaeology of Southern Fiction, and coeditor with Ann J. Abadie of several volumes of critical essays on William Faulkner. Combing her expertise in literature and art, she is currently at work on a book on Eudora Welty's photography. Annette worked at the Academy Gallery in New Orleans from 1986-1992 (while she earned a PhD in English) and she opened Bozarts Gallery in Water Valley in 2008. Annette and her husband Mickey Howley own and operate this artist driven exhibition space with the goal of promoting local artists and fostering community appreciation of the visual arts.