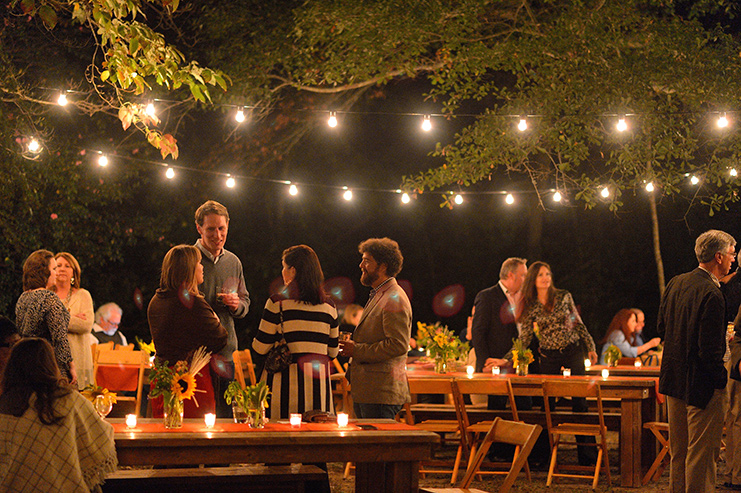 Harvest Supper, Friends of the Museum annual fundraiser. Set on the grounds of Rowan Oak, the event benefits University of Mississippi Museum and Historic Houses.
Annual Harvest Supper at Rowan Oak
SPONSORSHIPS
Individuals, businesses and other organizations may become Harvest Supper sponsors at these levels:
Presenting Level: $10,000 and up
Platinum Level: $5,000 to $10,000
Gold Level: $2,500 to $5,000
Silver Level: $1,000 to $2,500
Bronze Level: $500 to $1,000
Save the date for Harvest Supper 2021:
Thursday, October 21st!
The Friends of the Museum is a volunteer organization that supports museum fundraising, advocacy and special programing. Harvest Supper, hosted by the Friends, prides itself on being a showcase of local and regional artists, musicians, and chefs. Annually, the event connects alumni, local residents, and out-of-town guests with artists, writers, and musicians for dinner and entertainment on the historic grounds of Rowan Oak, the former home of Nobel Prize-winning author William Faulkner, in Oxford, Mississippi.
You may view the Harvest Supper Art Auction exhibit in the Speakers Gallery, located in the University Museum, through October 20th. Visit the Harvest Supper Fundraising website, hs21.org, to make a donation, view the art, read about the contributing artists, and participate in the silent auction.
Click here to learn More about Harvest Supper 2021!
The generosity of sponsors, ticket sales, and art auction proceeds enable the Friends to target specific museum needs to enrich the overall museum experience. Repeatedly named as one of the top college museums in the nation, the UM Museum hosts visitors from all 50 states, as well as 58 countries. In addition, the museum's educational programming reaches more than 10,000 North Mississippi students and children each year.
Through Harvest Supper, the Friends has been able to give more than $100,000 annually to the museum, most of which comes from sponsorships.
The various sponsorship levels guarantee tickets to the Harvest Supper, admission passes to Rowan Oak, membership to the University Museum, and much more.
If you have questions about Harvest Supper sponsorships, please email the museum at museum@olemiss.edu.
Proceeds from the evening will help support numerous aspects of the University Museum, including acquisitions, the Conversations guest lecture series, exhibitions, educational programming, and special events. The event also supports maintenance and operating costs for Rowan Oak and the Walton-Young Historic House, also managed by the museum.