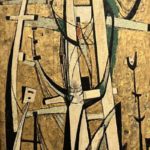 JANUARY 10, 2023 – DECEMBER 9, 2023
Most people know Theora Hamblett for her paintings of her childhood memories, dreams, visions, and her faith; however, this exhibit examines the external influence of other artists that inspired Hamblett as an emerging artist, student, and observational painter searching for her own artistic voice.
COVID-19 STATUS UPDATE:
Museum Galleries & Exhibitions are Open to All
The University of Mississippi Museum and Historic Houses follows the guidelines set by the University.
The Chancellor announced this update to campus protocols:
"Effective March 2, face coverings are required only on transportation networks and in healthcare settings such as University Health Services and University Counseling Center, regardless of vaccination status.
Face coverings are optional in all other indoor spaces, including classrooms, laboratories, studios, residence halls, libraries, dining facilities, the Student Union, Campus Recreation facilities, retail spaces, offices, conference rooms or extracurricular activities held in indoor on-campus spaces.
Faculty and staff may continue to require face coverings for visits to their private offices.
To stay up-to-date with the University's ongoing response to the coronavirus pandemic, please visit coronavirus.olemiss.edu