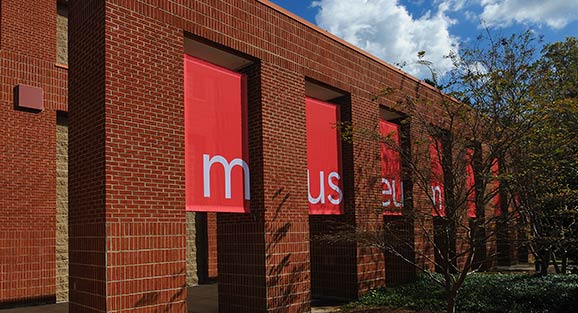 ---
COVID-19 STATUS UPDATE:
The University of Mississippi Museum and Historic Houses is committed to the safety of our visitors and staff through these uncertain times. The University of Mississippi requires masks to be worn indoors in public spaces. The UM Museum follows the same guidelines as the University, please wear a mask when touring the Museum or Rowan Oak.
The grounds of Rowan Oak and the Bailey Woods Trail are open daily from dawn until dusk. We ask that any visitors practice appropriate social distancing while on the property.
Museum Galleries & Exhibitions are Open to all Visitors beginning August 17, 2021.
To stay up-to-date with the University's ongoing response to the coronavirus pandemic, please visit coronavirus.olemiss.edu
---
Hours
MUSEUM:
The University Museum is open to the public 10 a.m. – 4 p.m., Tuesday through Saturday.
The Museum is closed on Sunday and Monday and regular University holidays.
ROWAN OAK:
10:00 a.m. – 4:00 p.m., Tuesday through Saturday; 1:00 p.m. – 4:00 p.m. on Sunday.
Rowan Oak Summer Hours: June and July, Monday through Saturday, 10:00 a.m. – 6:00 p.m. and Sunday 1:00 p.m. – 6:00 p.m
Rowan Oak is closed every Monday, as well as July 4, Thanksgiving, December 24, 25, 31, and January 1.
Bailey Woods Trail and the grounds at Rowan Oak are open from dawn to dusk daily.
---
Admission
MUSEUM: Free
The public is invited to attend all exhibition openings, Brown Bag lecture series, Free Sketch Fridays, and Family Activity Days, all ages are welcome.
BAILEY WOODS TRAIL: Free
A bike rack is conveniently located next to the side entrance of the Museum. Restrooms and water fountain are just inside as well.
ROWAN OAK: $5 fee per visitor
The grounds at Rowan Oak are open without charge.
---
Tours
MUSEUM:
Visitors should allow an hour to tour the Museum galleries.
Guided tours are available upon request and group tours are welcome with advance notice. If you are interested in booking a group tour, click here, email the Curator of Education at slbell@olemiss.edu, or call 662.915.7073.
BAILEY WOODS:
Allow a half-hour to walk the Bailey's Woods trail between the Museum and Rowan Oak.
ROWAN OAK:
For guided tours of Rowan Oak, call 662.234.3284.
Tour materials for Rowan Oak are available in Spanish, French, German, Italian, and Japanese.
---
Accessibility
The University Museum's facilities are handicapped-accessible.
If you require special assistance relating to a disability, please call 662-915-7073.
---
Find Us!
The University of Mississippi Museum
University Avenue and 5th St.
Oxford, MS 38655
662-915-7073
View Map
Rowan Oak
View Map