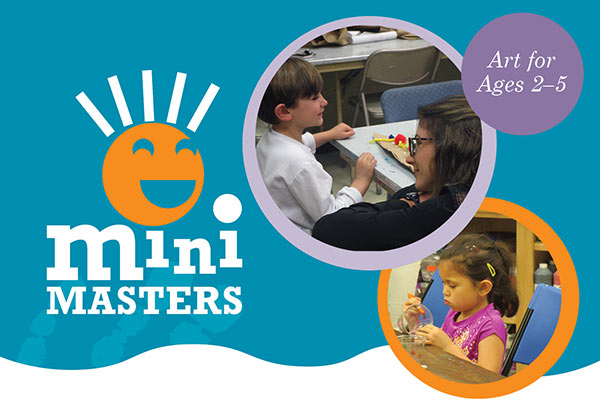 These fun, drop-in workshops for toddlers and a parent/guardian will be offered at the University Museum.
Cost: $5 per family for each drop-in session
Pre-registration is not required.
All classes are on Thursdays from 3:45 p.m. – 4:30 p.m.
Be inspired to make art based on Museum artifacts and exhibits.
JAN. 16: Fiber Arts!
Look, listen, and share ideas while you explore the fiber arts! At this fiber art-themed Mini Masters, children will participate in story-time, learn about the art of quilt making, play gallery games, and design their very own quilt!
FEB. 27: Spectacular Stars
MAR. 26: Day Dreaming with Theora THIS MINI MASTERS EVENT HAS BEEN CANCELED
APR. 23: Playing with Paperbacks
Hi Mini Masters Fans! You may notice that our schedule is shorter with only dates at the Museum this Spring. Don't fret as we are working on restructuring the program to meet the needs of the instructors and the schedules at both venues and looking forward to some new dynamic programming in the Spring. YAC and the University Museum are still partnering on some great programming, and are going to be working with different partners to come up with a diverse offering for the Spring semester. In the meantime, look forward to seeing YAC participating in Family Activity Days where they will be doing some fun art with the kids at the museum. Stay tuned for the full Spring schedule and know that we are looking forward to serving you all in the coming year.
Stacy Bell and Andi Bedsworth