---
COVID-19 STATUS UPDATE:
The University of Mississippi Museum and Historic Houses is committed to the safety of our visitors and staff through these uncertain times. Effective Monday, Feb. 14, 2022, the University will require face coverings only in instructional areas and healthcare settings, regardless of vaccination status. The UM Museum encourages visitors to wear a mask when touring the Museum.
---
Take your experience at the Museum to the next level and gain a greater understanding of the diverse collections on display by booking a group tour today! The UM Museum offers guided tours for visitors of all ages and interests. From pre-school students seeing art for the first time to art majors wanting to enhance their studies to lifelong learners of all ages, we aim to share our collections with many different audiences.
We will consult with you to create the most enriching tour experience possible. Whether you want a general tour of the whole museum or a specialized focus on one exhibit to correspond with your curriculum, we are happy to work with you to create a memorable and rewarding educational experience. For our younger audiences, you can also book a creative activity related to the exhibits led by our education staff.
Interested in booking a tour for your group? Please click to complete our request form:
University & Adult Tours PreK–Grade 12 Tours
Group Tour Information:
Tour participants are required to wear a mask at this time.
Please submit requests at least 2 weeks before anticipated visit.
A tour request is not the same as a booking, as there may be a prior event or booking. You will be contacted by museum staff to confirm your group's visit and answer any additional questions.
UM students must park where their decals allow and walk to the museum.
Class visits or tours are limited to groups of 10 or more.
Tours are available Tuesday-Friday, 8 a.m-3 p.m.
All tours are free.
Questions? For K-12, Contact Grace Mauldin at gomauldi@go.olemiss.edu. For University/Adult, Contact Grace Moorman at gmmoorma@olemiss.edu.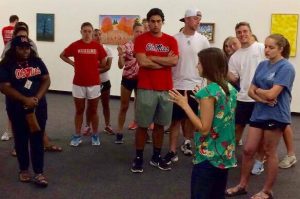 Not able to make it to the Museum for a tour? Click here to find out how to check out a Traveling Trunk for your classroom.
Questions? Contact the museum at museum@olemiss.edu or 662.915.7073.