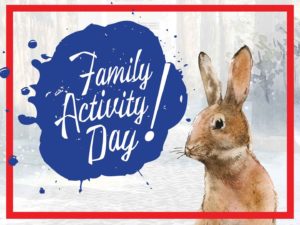 Cost: FREE!
The Museum offers fun-filled activity days for children to experience with their families. These events coincide with exhibits, holidays, and other special events—enriching the museum experience for all ages.
Winter Woodland Wandering
SATURDAY, DECEMBER 3, 2022
9:00 a.m. – NOON (DROP-IN)
During this special family day we will create seasonal projects and explore as the museum comes to life as a woodland filled with wonderful creatures! Suitable for families of all ages, we will also have a special area for our youngest learners ages 0-2.
During Winter Woodland Wandering we will be collecting non-perishables for Grove Grocery: The UM Food Pantry. Please see the list below for suggestions on what to bring. Check out grovegrocery.olemiss.edu to learn more about their mission and most needed items.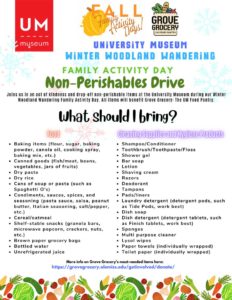 Questions? Contact Rosa Salas at rvsalasg@olemiss.edu or 662-915-7205.