This year the Friends of the Museum are excited to announce 16 pieces of artwork for auction as a part of the Harvest Supper. Come to the museum to get a sneak peek and make an advanced bid! All artwork will be on display until October 12, 2017.
Auction Date: Thursday, October 12, 2017
Silent auction begins at 6:30 p.m. and live auction begins at 8:05 p.m.
Grounds of Rowan Oak
part of Harvest Supper
ART FOR AUCTION
---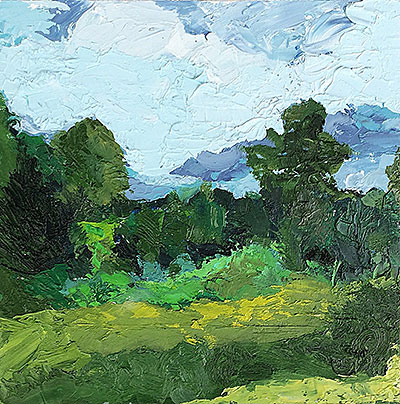 Jonathan Kent Adams
Stop Near Columbus, 2016
Oil on wood panel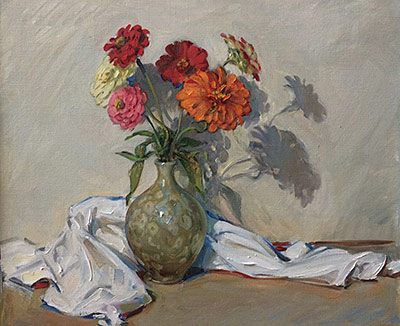 Jason Bouldin
Still Life, Zinnias, 2017
Oil on canvas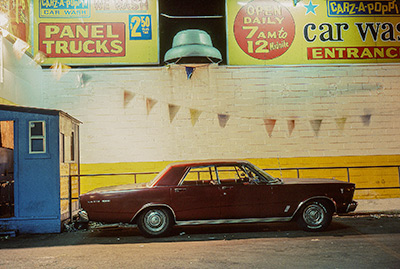 Langdon Clay
Carz-a-poppin, 1976
Archival inkjet print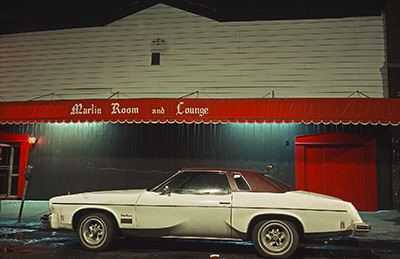 Langdon Clay
Marlin Room, 1975
Archival inkjet print
Maude Clay
Delta Hunters, 1983
Archival print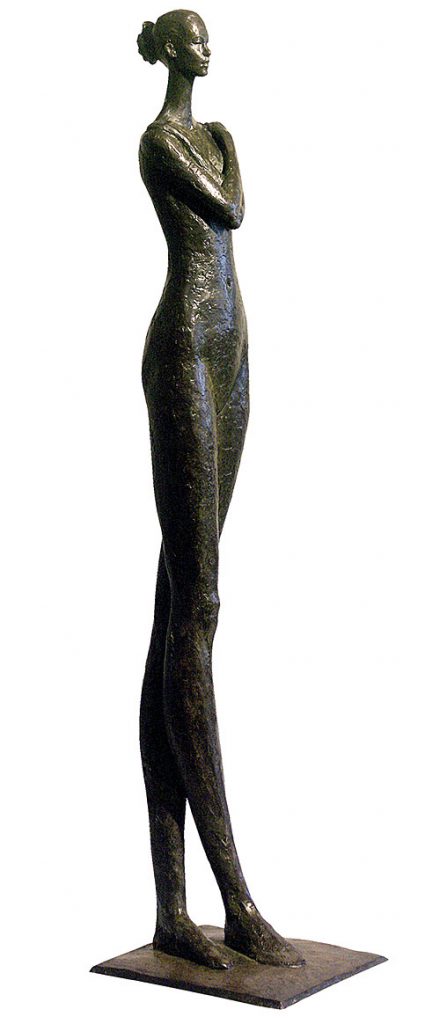 Tom Corbin
Isabella
Limited Edition of 50, Bronze, brown-green patina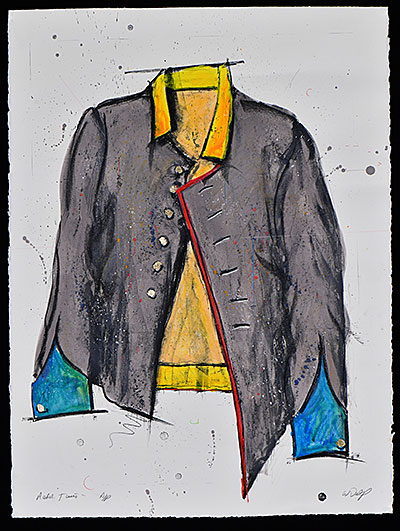 William Dunlap
Rebel Tunic, 2016
Oil paint, dry pigment over ink on rag paper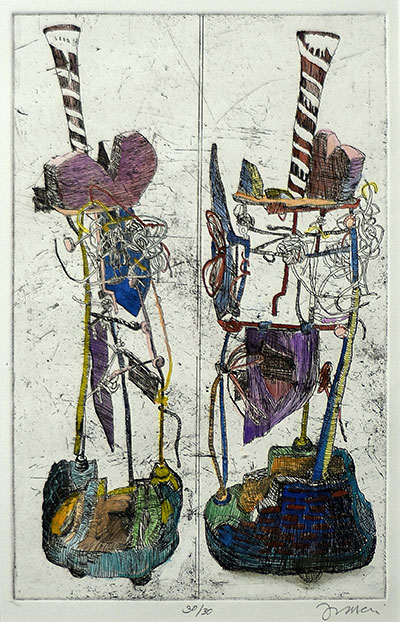 Ke Francis
Tornado Whirlygig Print, 2003
Hand-colored Etching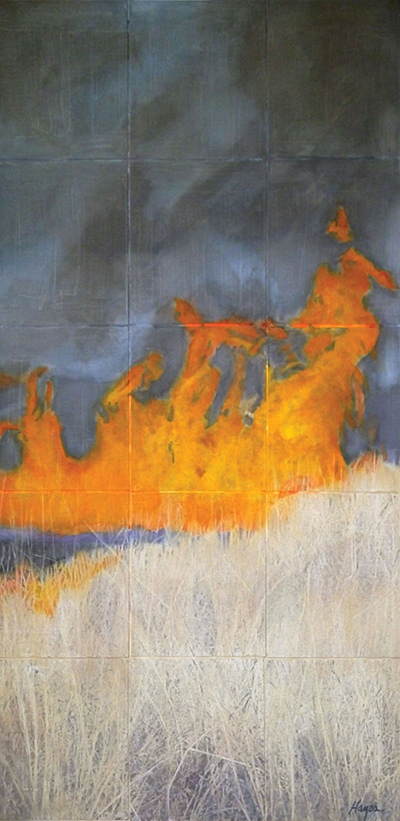 Hayes
Randy Hayes
Burn, 2017
Oil on photographs on canvas mounted onto canvas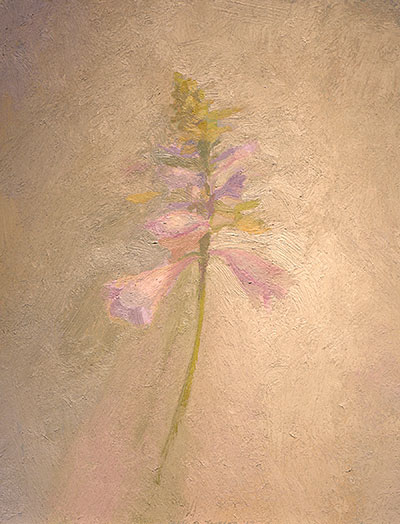 Philip Jackson
Flower at Dusk, 2017
Oil on museum board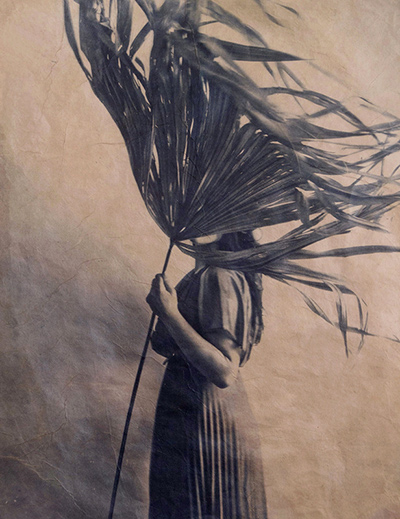 Jaime Johnson
Out of Africa, 2015
Tea-stained cyanotype
Terry Lynn
Kind
Mixed-media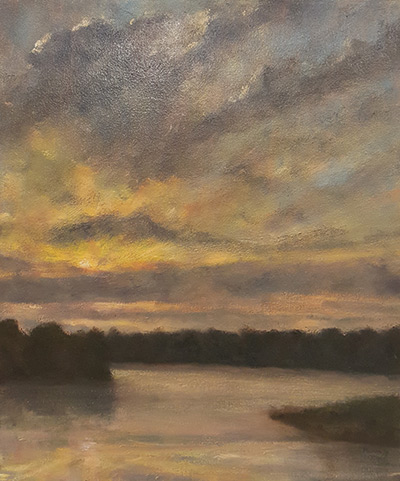 Robert Malone
Late Evening, 2015
Oil on canvas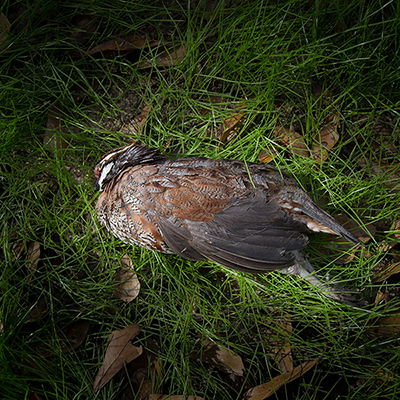 Brooke White
What Remains, Quail Hunt, 2016
Archival Digital Print on Hahnumuehle Photo Rag Paper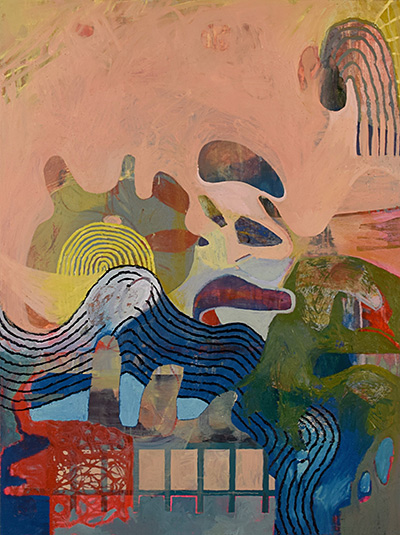 Claire Whitehurst
Crosscurrents, 2017
Oil on canvas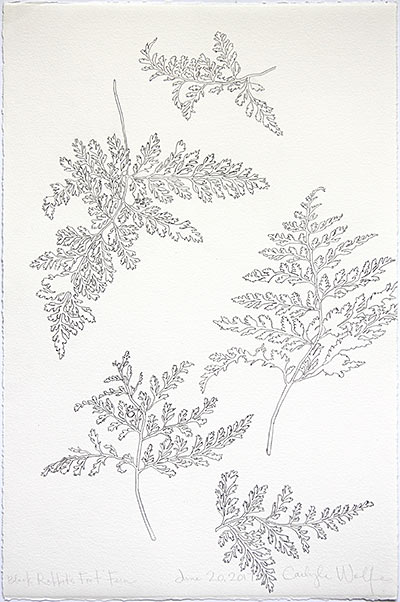 Carlyle Wolfe
Black Rabbit Foot Fern, 2017
Graphite on paper
FEATURED ARTISTS
---
Jonathan Kent Adams
Stop Near Columbus, 2016
Oil on wood panel
10" x 10"
From large scale installations to tiny works on paper, Jonathan Kent Adams presents his paintings in traditional and unorthodox ways. This presentation allows for viewers to imagine those who do not follow social constructions existing alongside those who do. "I love the unfinished moments and unconventional presentation. Those moments allow viewers a place to be themselves," said Adams. Adams' work places emphasis on the figure, but also explores communication through still life, video, poetry, and occasional landscape. Similar to contemporary artist, Lesley Dill, Adams creates realities that stem from words he encounters. His work encourages self-discovery amid traditions that often deny the outsider's existence. Adams earned a Bachelor of Fine Arts in Painting at the University of Mississippi. He studied under Mary Beth Mckenzie at The Art Students League of New York. His work was shown alongside other LGBTQ artists at Art Basel Miami in 2015 and 2016.
---
Jason Bouldin
Still-Life, Zinnias, 2017
Oil on canvas
24 1/2" x 22 1/8"
A native of Clarksdale, Mississippi, Jason Bouldin obtained his bachelors degree in Art History from Harvard Univeristy, and received his studio training from his father, portraitist Marshall Bouldin III. He was featured by The Artist's Magazine in their 20th anniversary issue as one of 20 contemporary artists "on the rise" in America. Nationally regarded for his portrait work, Jason Bouldin has received the Portrait Society of America's Grand Prize at its International Portrait Competition; and his portraits have been selected nine times for the Royal Society of Portrait Painters Annual Exhibition in London, England. Although working primarily as a portraitist, he is also passionate about landscape and still life studies.
---
Langdon Clay
Carz-a-poppin, 1976
Archival pigment print
27 1/2" x 35" framed
Marlin Room, 1975
Archival pigment print
27 1/2" x 35" framed
Langdon Clay was born in the middle of a hurricane in New York City in 1949. He grew up in New Jersey and Vermont and went to school in New Hampshire and Boston. He got his first camera on St. Patrick's Day 1968. His first roll of film was of Robert Kennedy leading the parade in New York. Three months later the presidential candidate was assassinated. Clay moved to New York in 1971 and spent the next 16 years photographing there and around the country and in Europe for magazines and books like JEFFERSON'S MONTICELLO by Howard Adams and Burgandy cookbook MY CHATEAU KITCHEN by Anne Willen. In 1987 he moved to Mississippi and has worked from there with his wife photographer Maude Schuyler Clay. They have three adult children; Anna, Schuyler, and Sophie. His book CARS 1974-1976 will be published by Stiedl in November 2016.
Cars were an indispensible aspect of twentieth-century culture, both for their utility and aesthetics. From 1974 to 1976, Langdon Clay photographed the cars he encountered while wandering the streets of New York City and nearby Hoboken, New Jersey at night. Shot in Kodachrome with a Leica and deftly lit with then new sodium vapor lights, the pictures feature a distinct array of makes and models set against the gritty details of their surrounding urban and architectural environments, and occasionally the ghostly presence of people. I experienced a conversion of sorts in making a switch from the "decisive moment" of black and white to the marvel of color, a world I was waking up to every day. At the time it seemed like an obvious and natural transition. What was less obvious was how to reflect my world of New York City in color… I discovered that night was its own color and I fell for it.
— Langdon Clay
---
Maude Schuyler Clay
Delta Hunters, 1983
Archival print
22 3/4" x 26"
Maude Schuyler Clay was born in Greenwood, Mississippi. After attending the University of Mississippi and the Memphis Academy of Arts, she assisted the photographer William Eggleston. She moved to New York City and worked at LIGHT Gallery and then as a photography editor and photographer for Esquire, Fortune, Vanity Fair, and other publications. When she returned to live in the Mississippi Delta in the late 1980's, she continued her color portrait work, for which she received the Mississippi Arts and Letters award for photography in 1988, and in 1992. In 1993, she began a series of black and white photographs of the Delta landscape. She received the Mississippi Art Commission's Individual Artist Grant in 1998. The University Press of Mississippi published the monograph DELTA LAND in 1999, which received the Mississippi Arts and Letter Award in 2000. She was the Photography Editor of the literary magazine The Oxford American from 1998–2002. Her work is in the collections of The Museum of Modern Art, The Museum of Fine Arts, Houston, and The National Museum for Women in the Arts, among others. Delta Dogs was published by the University Press of Mississippi in 2014, with a foreword by Brad Watson and received the MIAL Photography award for 2014. Clay received the Governor's Arts Award for 2014. Her new book of color portraits, MISSISSIPPI HISTORY, will be published by Steidl in Fall of 2015, with a foreword by Richard Ford. She continues to live and work in the Delta.
---
Tom Corbin
Isabella, 2007
Limited Edition of 50, Bronze, brown-green patina
32 1/2" x 4 1/4" x 6 1/2"
Tom Corbin's introduction and subsequent career in sculpture has been based more on serendipity than calculation. Born in Dayton, Ohio in 1954, Tom's early fascination in art was inspired by his mother, an art teacher by trade. Tom's original career pursuit was in Business as an advertising executive. Tom's first brush with the third dimension came in a chance meeting with a bronze sculptor in 1982. Classes with this sculptor led to a deepened interest in bronze casting and thoughts of a career in art. In 1986, Tom left the secure confines of his advertising agency job for the unpredictability of life as a full time sculptor.
Tom landed his first major public commission in 1988. Additional commissions followed, along with the financial freedom for Tom to develop his own "speculative" sculpture. During this period, Tom was also experimenting with furniture design, an area that would soon play a major role in the growth of his studio operation.
Today, Tom's work appears in 22 showrooms and galleries internationally. Individual collectors include Mr. and Mrs.Tom Hanks, Sofia Vergara, Nicole Kidman, Danielle Steel and the late Frank Sinatra. Public installation sites include the Kemper Museum of Contemporary Art, the United Nations, The Kauffman Foundation, the Firefighter's Memorial, the Children's Fountain, University of Oregon and Florida State University. In addition to important public and private collections, his work has found its way onto the sets of some major motion pictures, among them True Lies, A Perfect Murder, It's Complicated and Transformers.
---
Bill Dunlap
Rebel Tunic, 2016
Oil paint, dry pigment over ink on rag paper
37" x 29 1/4" framed
William Dunlap is a painter, writer, arts advocate and commentator.
The American landscape, its flora and fauna, are essential elements in Dunlap's art, as are certain iconic Old Masters such as Rembrandt's series of self-portraits, which he quotes in paintings and constructions.
He calls what he does, Hypothetical Realism. "The places and situations I paint aren't real… but they could be."
Allegory is ever present in this work. Whether on the page or the picture plane, Dunlap expects the viewer to meet him halfway. There is nothing backward looking about narrative art. On the contrary, one can hardly contemplate something more contemporary or edgy.
In a career spanning more than four decades, Dunlap has exhibited internationally and is included in numerous public and private collections, including the Metropolitan Museum of Art and the National Gallery of Art. He has received awards and honors from the Danforth, Rockefeller, Lila Wallace and Warhol Foundations, as well as the Mississippi Institute of Arts and Letters, and the Mississippi Governor's Award for Excellence in the Arts.
Dunlap, (University Press of Mississippi, 2006) with essays by Rick Gruber and Julia Reed, remains a definitive book of the artist's work. Short Mean Fiction – Words and Pictures, (Nautilus Press, 2016) is Dunlap's initial foray into literary fiction with stories drawn from decades of sketchbooks accompanied by reproductions of original drawings.
William Dunlap maintains studios in Coral Gables, Florida; McLean, Virginia; and Mathiston, Mississippi, and can be contacted through this website.
---
Ke Francis
Tornado Whirlygig Print, 2003
Hand-colored Etching
27" x 17 1/2"
Ke Francis is a narrative artist that has been actively producing artwork for more than fifty years. Mr. Francis is represented by Mira Mar Gallery in Sarasota, Florida Mining Gallery in Jacksonville, and Lowe Gallery in Atlanta, Kim Caren Gallery, Tupelo, The Arts Company, Nashville, Drawl Gallery, Little Rock and Bentonville, Arkansas, and Blue Spiral Gallery in Asheville, N.C. His book works, paintings, prints, photographs and sculptures are in numerous public and private collections including: The Getty Museum, National Gallery, National Museum of American Art, High Museum, New Orleans Museum of Fine Art, San Francisco Museum of Contemporary Art, Yale / Sterling Memorial Library, Van-Pelt Dietrich Collection, and The Polaroid Collection, among many others.
---
Randy Hayes
Burn, 2017
Oil on photographs on canvas mounted onto canvas
48" x 24"
Randy Hayes spent most of his youth in the country with his extended family near the small town of Clinton, Mississippi. At an early age, he vacationed with his family on the Mississippi Gulf Coast. Seeing the Gulf of Mexico for the first time ignited a lifelong passion for travel.
He also loved to draw and was encouraged by his mother, grandmother and aunts. At the age of sixteen he moved with his family to Tupelo, Mississippi where he became friends with Ke Francis, a narrative artist. The two boys often spent their Saturdays painting and drawing together.
At the age of eighteen, Hayes took his first art lessons from Lawrence Anthony at Southwestern at Memphis (now Rhodes College). The following year Hayes took a freighter to Europe with a friend. Hitchhiking on a meager budget, it was in Europe that he made the decision to become an artist.
Upon his return, Hayes transferred to the Memphis College of Art where he received his B. F.A. Moving to Boston in 1972, he found work as a freelance scenic designer. Most of his work was with the PBS television station WGBH. The experience had a significant impact on his future work.
In 1975 Hayes moved to Seattle and opened a used and rare book store with a friend. He established a gallery in the store and exhibited the work of numerous artists and photographers. At the same time, he began to exhibit his own art both locally and nationally. A fellowship, with two other artists, from the University of Washington's Henry Art Gallery made it possible for Hayes to work in Rome for two months. A commission for the Port of Seattle Headquarters allowed the artist to travel to Asia, Africa and Europe to photograph ports. More recently travels to Turkey and Japan continued the lifelong passion for travel.
In 2004 the artist returned to Mississippi part time, and in 2014 he moved from Seattle to Holly Springs, Mississippi where he now lives and works.
The art of Randy Hayes can be found in museums and corporate and private collections.
---
Philip Jackson
Flower at Dusk, 2017
Oil on museum board
22 3/8" x 19 1/4" framed
Philip Jackson is an Associate Professor of Art at the University of Mississippi in Oxford where he currently teaches and heads the painting program. His work is part of the permanent collections of art museums in Evansville and Fort Wayne, Indiana, Huntsville, Alabama and most recently the Mississippi Arts Commission in Jackson, Mississippi.
His paintings have been featured in a number of premiere magazines, including, Art in America, Southwest Art, American Art Collector, and American Artist Magazine. He has received grants from the Elizabeth Greenshields Foundation in Montreal, Canada, a two-time recipient of the Mississippi Arts Commission Fellowship, numerous scholarly research grants from The University of Mississippi and most recently was named this year's fellow of the $15,000 Jane Crater Hiatt Fellowship.
He received his BFA from the Columbus College of Art & Design in Columbus, Ohio and his MFA from Bowling Green State University in Bowling Green, Ohio, and studied abroad at (SACI) Studio Art Centers International in Florence, Italy.
Working in the established genre of still life, Philip R. Jackson takes a traditional subject and invigorates it with a fresh contemporary vision. Jackson's paintings are seen through the eyes of another world. Overlooked and commonplace, objects are suspended in a single moment. However, it is in the intimate act of seeing that one can observe an unveiling universe. Bathed in light, the mystery of each object is revealed. The haunting silence of what has happened or the inevitable finish of what is yet to come fills the air with anticipation.
---
Jaime Johnson
Out of Africa, 2015
Tea-stained cyanotype
25 1/4" x 20" framed
Jaime Johnson grew up in Poplarville, Mississippi to the sounds of wild animals outside her bedroom window. Johnson received her BFA from the University of Mississippi in Imaging Arts and her MFA in Photography from Louisiana Tech University in Ruston, LA. Johnson's work has been shown nationally and abroad in venues such as the Center for Fine Art Photography, The SOHO Photo Gallery in New York, The New Orleans Photo Alliance, and the Ogden Museum of Southern Art. Her work is in public and private collections including the Mississippi Museum of Art in Jackson, the University of Arkansas in Little Rock, and the International House Hotel in New Orleans. Johnson resides in Tampa, FL.
---
Terry Lynn
Kind, 2017
Mixed-media
25 1/2" x 22"
Terry Lynn was born in Memphis TN and grew up in Arlington. He began showing his paintings at Gestine Art gallery on Beale street. He enrolled in architectural technology before studying for a BFA at the University of Memphis, where he received a BFA. Terry collaborates on art with his twin brother Jerry under the signature "Twin". His twin and he have shown in many solo and group exhibitions and have been collected worldwide.
Terry Lynn has used sculpture, painting and installations to explore the complexity between art and life. "I'm interested in the land, figure, place, and time. "Art is life, and life is art," Terry's art challenges traditional beliefs through his artistic choices.
Terry honed his labor extensive approach as a teenager while working as a laborer with his brick mason grandfather. He developed a painterly stroke from working with his father painting and remolding homes. "I learned the value of hard work and a work ethic at a very young age. … I spent hours practicing and improving my craft … I remember listening to families stories of how things use to be." Inspired by those narratives and personal revelations he creates work that evoke and challenge the viewers memories and emotional response.
---
Robert Malone
Late Evening, 2015
Oil on canvas
24 1/4" x 20"
Serving on The University of Mississippi faculty since 1997 as an Adjunct Assistant Professor, Robert Malone has taught beginning through advanced painting and drawing. Previous teaching experience includes three years as an adjunct at Middle Tennessee State University, teacher seminars, and Art League Workshops. Mr. Malone is a working artist who depends on his painting to provide the majority of his income. He brings life lessons to the classroom, with a strong traditional foundation and an open contemporary viewpoint.
His landscape paintings in oil capture the sublimity of nature; each canvas reveals the inherent spiritual reality of the beautiful world in which we exist. He has exhibited at the Nicole-Perry Gallery, Memphis,TN.; Carol Robinson Gallery, New Orleans LA; Yeiser Museum, Paducah, KY; Meridian Museum of Art, Meridian, MS; Brooks Museum, Memphis, TN; Allen Price Gallery, University of Wisconsin; University of Melbourne, Australia. His work is in the corporate collections of AT&T, Ochsner Clinic, and the National Bank of Commerce. He has work in many private collections throughout the United States including New York, NY; Los Angeles, CA; Washington, DC; Memphis, TN; Nashville, TN; Atlanta, GA; New Orleans, LA; Winter Park, FL; and Jackson, MS.
---
Brooke White
What Remains, Quail Hunt, 2016
Archival Digital Print on Hahnumuehle Photo Rag Paper
23" x 23"
Brooke White is both a practicing artist and an educator who specializes in fine art photography and video art, with an M.F.A. from Cornell University and a B.F.A. from Alfred University, New York State College of Ceramics. White has exhibited her photographs and videos nationally and internationally and much of her work is created while traveling in areas such as East Africa, South East Asia, South America and the deep south of the United States.
White has received several grants and residencies, which have helped her pursue her artwork in various parts of the world. She is a recent Fulbright Scholar in India and has received multiple Mississippi Arts Council Individual Artist Grants.
She resides in Oxford, MS with her husband, daughter and dog and she is Associate Professor of Art and Area Head of Imaging Arts at the University of Mississippi.
White's work investigates identity through place and looks for commonalities as they relate to the larger, outside world. Most recently White has been photographing in Cuba and Central Asia looking at the ways that globalization effects our connection to place and the landscape.
---
Claire Whitehurst
Crosscurrents, 2017
Oil on canvas
48" x 36"
Claire Whitehurst is an artist living and working in Iowa City, Iowa, where she is pursuing her MFA in Painting at the University of Iowa. She received her BFA from the University of Mississippi, and worked in Oxford briefly before studying at the Pennsylvania Academy of Fine art in Philadelphia, PA. Her work deals with physical and psychological relationships, and the construction of ambiguous narrative through shape, color, line, and rhythm.
---
Carlyle Wolfe
06-20-2017 Black Rabbit Foot Fern, 2017
Graphite on paper
29 1/4" x 22"
Carlyle Wolfe paints oils on panel and watercolors on paper and makes large-scale installations—all based on drawings from observation of plants and landscape color studies. She has recently begun to use her drawings and color studies to make large sculptures. Wolfe grew up in Canton, Mississippi, and earned a BFA in painting from the University of Mississippi and an MFA in painting and drawing from Louisiana State University. She has also studied in Cortona, Italy, and at the University of Georgia.
Wolfe has exhibited work throughout the South, including the Dixon Gallery and Gardens, the David Lusk Gallery in Memphis and in Nashville, the Mary C. O'Keefe Cultural Center, the University of Charleston, the Shaw Center for the Arts, the Mississippi Museum of Art, the Lauren Rogers Museum of Art, the University of Mississippi Museum, and Arkansas Arts Center. Her work was recently selected for the Art in Embassies Program at the US Embassy in Maputo, Mozambique.
Wolfe is the recipient of three Mississippi Arts Commission Visual Arts Fellowships (2005, 2010, 2015) and two Mississippi Institute of Arts and Letters Visual Arts Awards (2008, 2017). She lives in Oxford, works in her studio beside her home, and until recently taught part time at the University of Mississippi.
---
In-person and phone bids can be made at the UM Museum. All absentee bids and/or telephone bid should be made to the Museum by 5 PM Wednesday, October 11, 2017. We may not be able to properly execute the bids received after that time. For more information, please call 662.915.7073.
Auction to take place during Harvest Supper.