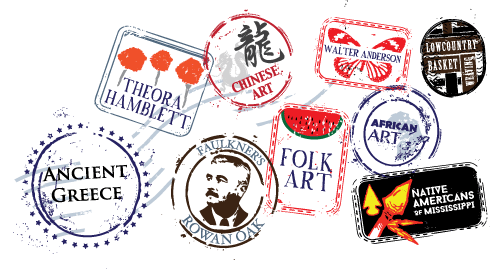 Bring the UM Museum to your classroom today!
The University of Mississippi Museum is proud to offer a free Traveling Trunk program that brings the art, history, and culture of the museum to your classroom or organization.
Our presenters will travel within a one-hour radius of Oxford to present the trunks, or teachers may check the trunks out themselves for up to two weeks of use. Each trunk provides lessons that meet current grade-specific standards, educational objects or images, and artistic materials to enrich classroom studies.
Trunk lessons will contain the following:
A Thematic Introduction
Materials and Instructions for a Visual Arts Component
A Language Arts Component
A Social Studies or History Component
Available Trunks:
NEW! Virtual Trunk!
Click here to learn more about this option.
African Art
Ancient Greece
Chinese Art
Faulkner's Rowan Oak (high school)
Folk Art
Trunk made possible by the Mississippi Humanities Council
Lowcountry Basket Weaving
Trunk made possible by the Mississippi Arts Commission
Native Americans of Mississippi
Theora Hamblett
Walter Anderson
Click here to learn about our Traveling Trunk policies.
To get started, complete a trunk request form today!
Questions? Contact Rosa Salas, Education Curator, at 662-915-7073.