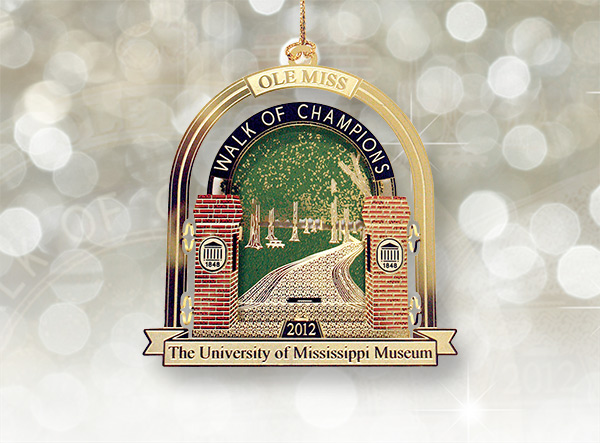 Available now at the Museum Store
Featuring an image of Ole Miss' "Walk of Champions" arch, the limited commemorative keepsake is available for $25 plus tax.
Collectibles from previous years – featuring the Barnard Observatory, Old Skipwith House, Brandt Memory House, Lyceum, Ventress Hall, Lafayette County Courthouse, Oxford City Hall, a vintage Ole Miss women's basketball jersey, William Faulkner's Rowan Oak, the Theora Hamblett House, and Theora Hamblett's "Christmas Trees " – can also be purchased individually for $20 each plus tax, or as a set of 12 for $220 plus tax.
All keepsakes can be purchased through the Museum Store, at the intersection of University Avenue and Fifth Street, open 10 a.m.-6 p.m. Tuesdays-Saturdays, or by credit card by calling 662-915-7073.  Orders to be shipped must be placed by Dec. 12 and require a shipping and handling fee. Museum members receive a 10 percent discount on all merchandise in the Museum Store.