Archives for April 2013
[issuu layout=http%3A%2F%2Fskin.issuu.com%2Fv%2Flight%2Flayout.xml showflipbtn=true documentid=140401165913-24ffe01a3d9f3421a612f62ba2ef0d59 docname=f13newsletter_final username=amywoodwardevans loadinginfotext=MuseNews%20Spring%202013 showhtmllink=false width=430 height=272 unit=px]
Oxford Day
Saturday, May 18, 2013
Noon – 8:00 PM
Mississippi Museum of Art, The Art Garden
EVENT IS FREE
In honor of Symbols of Faith, Home, and Beyond: The Art of Theora Hamblett, and in celebration of the hometown of Theora Hamblett, the Mississippi Museum of Art invites all Ole Miss Alumni and current and former residents of Oxford to a day of events and programs in The Art Garden. A variety of talented Oxford musicians and performers provide entertainment throughout the day on the C Spire Stage, including Oxford Ballet, Dent May, Jimmy Phillips and the Ruminators, and Kudzu Kings. Literary readings are presented by Vox Journal, and film screenings will occur in the evening. Artwork from Oxford-based Southside Gallery will be on view inside the Museum. Educational activities are provided by MMA education staff and the University Museum. The Oxford Convention and Visitors Bureau and representatives of Ole Miss Athletics and the Central Mississippi Ole Miss Rebel Club bring added excitement and energy to the festivities. Oxford-themed food options and specialty cocktail selections are provided by The Palette Café by Viking and Chef Louis H. LaRose. This event is sponsored by BancorpSouth and Southern Beverage. It is supported by the University of Mississippi Museum and Historic Houses, permanent home to many of Hamblett's paintings, and the Yoknapatawpha Arts Council.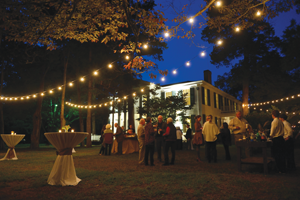 It was a perfect October night—cool, but not cold, with all the energy and optimism of a Thursday night of a football weekend in Oxford. Lights in the trees, wildflowers on the farm tables, music in the air, a cocktail in the hand:  it was the first annual Harvest Supper on the grounds of Rowan Oak, presented by the Friends of the Museum.
Catered by star-on-the-rise chef Elizabeth Heiskell, the serving tables were bountiful with delectable seasonal dishes, each better than the last, and all prepared with local produce donated by nearby Woodson Ridge Farm. Candlelight and jazz by Alphonso Sanders & Friends warmed the night air.  It was a wonderful celebration of the Museum and its new director, Robert Saarnio, and of friends from Oxford, from around Mississippi, and beyond.
"It was a magical night … Everyone had a fabulous time enjoying Rowan Oak in such a rare and intimate way, all while raising important funds for the Museum."

—Friends president, Dorothy Howorth
But the star of the evening was Rowan Oak. Enjoying a drink and hors d'oeuvres on the front lawn, where Mr. Faulkner served his guests cocktails and dined on the side lawns, where he frequently entertained, Harvest Supper guests developed a new and even more personal affection for this beloved landmark.
"It was a magical night," says Friends president, Dorothy Howorth. "Everyone had a fabulous time enjoying Rowan Oak in such a rare and intimate way, all while raising important funds for the Museum. People keep asking me when we're going to do it again!"  And, in fact, the second annual Harvest Supper will be on October 10, 2013, so mark your calendars.
Tickets will be available from the Museum in mid-September. As before, proceeds from the 2013 Harvest Supper will support education, exhibitions, and acquisitions at the University Museum and Historic Houses. Details will be posted on the Friends' page at museum.olemiss.edu/friends.
On July 6, 1962, the world lost one of its great literary luminaries, William Faulkner. Luckily, his works continue to entertain and inspire readers, while Rowan Oak gives the public the opportunity to live with Mr. Faulkner, if only for an hour. Last summer's 2012 Faulkner and Yoknapatawpha Conference theme, "Fifty Years after Faulkner," honored the great author's legacy.
There are two new books commemorating William Faulkner's life. Above the Treetops by Jack Sacco, chronicles William Faulkner and Bobby Little's friendship. Hardback copies are currently on sale in the Museum Store. The second book, Every Day by the Sun by Dean Faulkner Wells is out in paperback. Curator of Rowan Oak, Bill Griffith, describes it as "[one of] the most humane treatments of the Faulkner family yet written," a true essential for any Faulkner fan.
Rowan Oak has installed two new display cases. One case is dedicated to the 50th anniversary of William Faulkner's passing with letters from Tom Brokaw and William Styron, while the second case contains two photographs by Henri Cartier-Bresson.
Also, the new film adaptation of As I Lay Dying, directed by James Franco, is sure to spark a new interest in one of the South's most beloved authors. Don't forget to mark your calendars for this year's Faulkner and Yoknapatawpha Conference
July 21–25, 2013. Our new volunteers, Martha Huckins and Rebecca McDouglad, are happy to inform visitors about Mississippi's favorite author, so beat the crowds and come visit Rowan Oak.
The Orpheus Relief Project is a collaboration between the Georgia Museum of Art and the Franklin College of Arts and Sciences at the University of Georgia and the University of Mississippi Museum and Historic Houses. The project involves the public exhibition and interdisciplinary study of an important but little-known marble relief sculpture with possible vestiges of ancient painting.  This exciting endeavor uses cutting-edge technology of hyperspectral imaging to illuminate the painting and other microscopic materials on the relief's sculpted surfaces. The Orpheus Relief returns to the Museum at the end of April 2013.
From March 23-June 23, 2013, Symbols of Faith, Life and Beyond:
The Art of Theora Hamblett will be on exhibition at the Mississippi Museum of Art on loan from the University of Mississippi Museum. This exhibition highlights all three of Theora Hamblett's collections: Old Home Memories, Childhood Games, and Dreams and Visions. We are very excited to share one of our prized artists and collections with broader audiences.
The UM Museum is honored to be awarded the following
grants and designation during the 2012–2013 year.
• Conservation Assessment Program from Heritage Preservation
• National Recreation Trail Designation from the Department of the US Interior
• Project Grant from the Mississippi Arts Commission
• Programming Grant for NEH On the Road from the National Endowment for the Humanities
• MAC Minigrant from the Mississippi Arts Commission
This summer, the University of Mississippi Museum along with 1,800 museums nationwide participates in Blue Star Museums, a program of the National Endowment of the Arts offering free museum admission to military families from Memorial Day through Labor Day.  Blue Star Museums enables American communities to thank our military families for their service and sacrifice to our country by inviting them to enjoy the best of American culture.
The University of Mississippi Museum received a grant to be a part of the Conservation Assessment Program (CAP) overseen by Heritage Preservation. CAP assists museums by providing funds for professional conservation and preservation specialists to identify the conservation needs of their collections and historic structures and recommend ways to improve collections and building conditions. Professional conservators spent two days surveying the site and three days preparing comprehensive reports identifying conservation priorities. The reports will assist the Museum in making appropriate improvements for the immediate and long-range care of its collections and historic structures.
The UM Museum benefits greatly from the generosity of its volunteers and celebrates the dedicated service of Joel Wright. Born in Stillwater, Oklahoma, Joel graduated from Hendrix College in 2005 with a B.A. in History and Education. Before obtaining his Master's degree, he taught high school for four years in the Arkansas Delta and Holly Springs, MS. Joel graduated last May at the University of Mississippi with a Master's in History with an emphasis on 20th Century K-12 Education and Race.
He is currently the AmeriCorps VISTA at the Museum where he has been working alongside Curator of Education, Emily Dean. He focuses on the Outreach programs, especially the Traveling Trunks.  Joel states, "I have tried to bring my experience as a school teacher to expand our program to include more options for middle school/junior high students, and to create new long term partnerships for bringing art into the surrounding communities, like we have with an afterschool group in Como, MS."
Joel has taken up the tedious responsibility of writing grants on behalf of the Museum and has already been awarded his first grant, a Mississippi Arts Commission Minigrant, to send Emily Dean to the National Art Education Association Conference in Fort Worth, TX. Thank you, Joel, for devoted commitment of service to the Museum and the community!
A highly festive mood prevailed on the evening of Thursday, October 11, 2012, when members of the Oxford community and University leaders gathered for the Museum's annual Members' Party, which celebrated recent gifts of artwork to the Museum's permanent collection. Newly arrived Museum Director, Robert Saarnio, and Museum staff were on hand to greet guests. The evening showcased the exhibition, Gifted Visions: Recent Gifts to the Permanent Collection. The exhibit featured work by acclaimed artists such as Mary T. Smith, Alyne Harris, Andrew Bucci, Marie Hull, Glennray Tutor, and William Dunlap.
"From its inception, the University of Mississippi Museum and Historic Houses have flourished due to the generous support of the Oxford community and individuals wishing to share their private collections with a larger audience," said Emily Dean, Curator of Education. "These recent gifts are a tremendous addition to our permanent collection, which will be an invaluable resource for learners of all ages for years to come."
The donors of art included:
Louis E. Dollarhide and
Betty  Z.  Harrington,  Elizabeth  Dollarhide,
John Z.  Dollarhide, Louis E. Dollarhide III, Martha C. Dollarhide, David K. Dollarhide, Donna H. Vinson, Vikki Hughes and Price Johnson, A.C. Brown, William Dunlap, UM Chancellor and Mrs. Dan Jones, and Ray Meifert.
"I'm excited to have the Membership Party as my first significant opportunity to acknowledge to museum supporters my great joy in assuming this wonderful position at a most remarkable museum," Saarnio said. "This celebration of the Museum's community, and our donors and members, is an annual expression of something we feel every day—immense gratitude to those who transform the University Museum through gifts to the collection and by sustaining us with their membership pledges."
The UM Museum is indebted to the generosity and continued support of our patrons and donors who believe in the Museum's mission. We hope you will join us at the next Annual Membership Party in the fall.