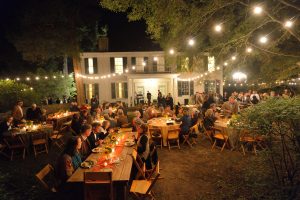 Presented by the Friends of the University Museum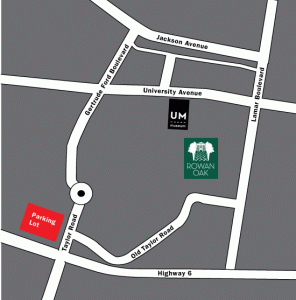 Harvest Supper provides a quintessential Oxford-Ole Miss experience – a picturesque evening at Faulkner's Rowan Oak.

Thursday, October 12, 2017 —6:30 p.m.
Sponsorships of $500. and over guaranteed tickets. Due to the overwhelming support and generosity of Harvest Supper sponsors, an extremely limited number of tickets were available after Labor Day at $150. each. First notification was given to current sponsors, followed by Museum Members. Upon request, names will be added to the Ticketing Wait List until October 4th. available upon request. Simply call the Museum at 662-915-7073.
Parking and inclement weather details TBA.
Proceeds benefit the University Museum and Historic Houses.
---
ART FOR AUCTION
---
FOOD
A & N Catering
Elizabeth Heiskell Catering
---
MUSIC
Mosquitoville Players
Sharde Thomas & the Rising Star Fife and Drum Band
---
SPONSORS
Presenting Level
Madison Charitable Foundation
Diane and Dickie Scruggs
Platinum Level
| | |
| --- | --- |
| Darrell Crawford | Kent and David Magee |
| Elizabeth and Will Galtney | The Self Foundation |
Gold Level
| | | |
| --- | --- | --- |
| Marty and John Dunbar | Marla and Lowry Lomax | Mary M. Thompson |
| Friends of Dorothy and Tom Howorth | Elizabeth and Jeff Lusk | Carol and Bill Windham |
| Hardy Reed | Saint Leo | Ken Wooten & Margaret Wylde |
| Howorth & Associates Architects | Rose and Hubert Spears | |
Silver Level
| | |
| --- | --- |
| Ann and Dale Abadie | Edmondson, Sage and Dixon, PLLC |
| R. J. Allen & Associates, Inc. | Jan and Lawrence Farrington |
| Baptist Memorial Hospital North MS | Lassie and Harry Flowers |
| Rex Harrison Brunt | Susan and Bowen Flowers |
| Charter Road Hospitality, Inc. | Martha Dale and Eddie Fritts |
| Robin and John Cocke | Mary Ann and Don L. Frugé |
| Mary Ann and Steve Cockerham | Mary and Sam Haskell |
| Coleman Funeral Home | Gayle and Michael Henry |
| Tammy Oliver and John Cook | Hughes Brown, PLLC |
| Trish and Jack Denton, Jr. | Vikki and Price Jordan |
| | |
| --- | --- |
| KTB Wealth Partners | Jessica and Hayden Perkins |
| Rebecca and Billy Long | Proud Larry, Inc. |
| Olivia and Archie Manning | Mary Sharp and Jim Rayner |
| Mayo and Mallette | Ready Law Office |
| Bobby Jo and Robert McConnell | Robert Seibels |
| Mesquite Chop House | Carolyn and Bill Simmons |
| Karen and Bruce Moore | Splinter Creek |
| J.E. Neilson Company | Melissa Swetland & Danny Bulian |
| Ambassador John Palmer & Carol Puckett | Jane C. Thomas |
| | |
| --- | --- |
| Marjorie and "Beau" Whittington | |
| | |
| | |
| | |
| | |

Bronze Level
| | | |
| --- | --- | --- |
| Peggy and Jimbo Adams | Jill and Kevin Gardner | Claire and Ric Miller |
| Barbara and Rodney Baine | Jackson Garner | Susan and Guy Mitchell, III |
| Susan and Brett Bartlett | Jane Henderson | Rene and Ed Morgan |
| Bayou Birds | Missy and Lloyd Hewitt | Connie and Eric Mott |
| Camp Best | Holcomb Dunbar Attorneys | Oxford Treehouse Gallery |
| Linda and Richard Biernacki | Daniella Howard and Roy Parker | Mary Ann and Roy Percy |
| Lucia and Louis Brandt | Lori and Matthew Johnson | Rebecca and Locke Phillips |
| Shawn and David Brevard | Ernie and Jamie Joyner | Dana and Richard Pigford |
| Kristy and David Bridgers | Medora and Ben Justus | Linda and Holly Raney |
| Leslye and John Burnam | Gloria and Jerry Kellum | Sallie Kate and Mark Ray |
| | | |
| --- | --- | --- |
| Lauren and Marc Byers | Tiffany Kilpatrick | Lauren and Land Renfroe |
| Ryan E. Burne, Attorney | LaRousse Salon & Spa | Judy and Chris Riddell |
| Rachel and David Calhoun | Dorothy and John Laurenzo | Robert Saarnio |
| Joy and John C. Clark | Lindsey and Jason Leach | Woody and Julie Sample |
| Eva Connell | Amy and Slade Lewis | Mary and Mark Solomon |
| Niki and Stuart Davis | Little & Wilkinson Construction | Southside Gallery |
| Jessica and Jeff Dennis | Susan and Ben Lloyd | Patty and Pat Tatum |
| | | |
| --- | --- | --- |
| Jason Derrick | Ed and Becky Meek | Trent Lott Leadership Institute |
| Dodge's Stores | Susan and Larry Martindale | Laurie and Jeff Triplette |
| Evelyn and Mike Donatelli | Melody and John Maxey | Barbara Jim and Bill Turner |
| Paige and Glen Evans | Louisa and George McConnell | Douglas and Ralph Vance |
| Express Computer Service | Becky and Ed Meek | Melody and John Webb |
| Anne and Dave Fair | Susan and Tom Meredith | Elizabeth and Alan Wolf |
| | | |
| --- | --- | --- |
| FNB Oxford Bank | Donna and Charlie Merkel | |
In-Kind
| | | |
| --- | --- | --- |
| A&N Catering | Magnolia Rental | Mosquitoville Players: GinGin and Eric Carlton, Dr. Sick, |
| Cathead Vodka | Oxford Floral | Jennifer and Jimbo Mathus, Abigail and Nate Robbins, |
| Magnolia Wine & Spirits | Yalobusha Brewing | Rosamond and Jamie Posie, Jared Spears, Alex Holeman |
---
Friends of the Museum Board Members 2017–18:
| | | |
| --- | --- | --- |
| John Hardy, President | Dorothy Howorth, Vice President | Medora Justus, Treasurer |
| Mary Thompson, Secretary | Mary Solomon, At-Large | Carlyle Wolfe, Past President |
| | | |
| --- | --- | --- |
| Ann Abadie | Donna Gottshall | Rebecca Phillips |
| Jonathan Kent Adams | Gayle Henry | Diane Scruggs |
| Allyson Best | Terry Lynn | Brooke White |
| Joy Clark | Susan Martindale | Kathryn York |