By Brian Dettmer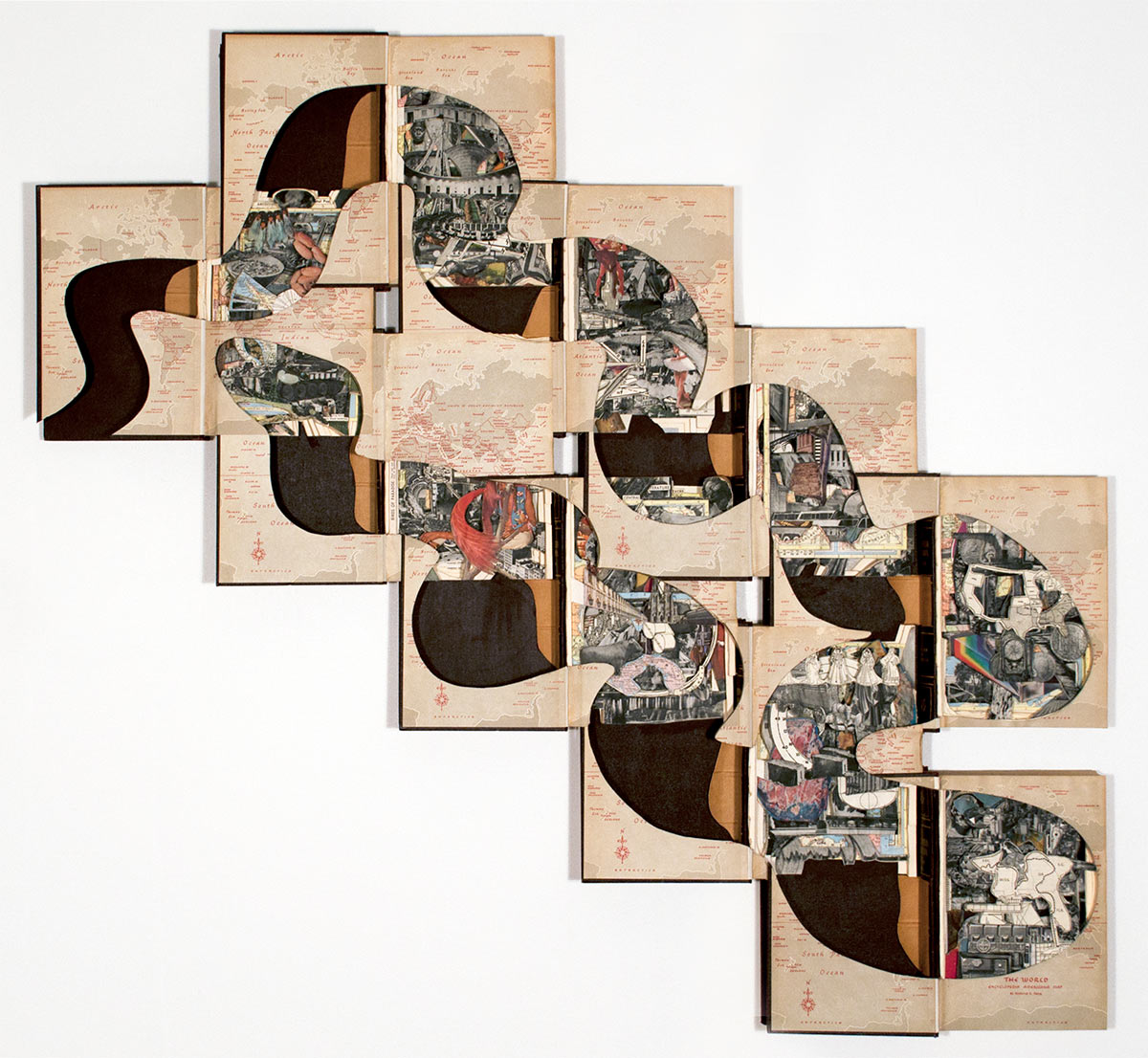 Americana 54 (#1), 2013
MARCH 10–DECEMBER 5, 2020
Virtual Artist Lecture: Tuesday, October 27, 2020, 2:00 p.m. CST
▸ REGISTER HERE
Brian Dettmer's exhibit Hardcovers and Paperbacks, both memorializes the written word and reincarnates it. With great reverence, he has transformed books into sculptural works providing them with a new voice that pays homage to their former lives. Exhibit is on view at both the University Museum and Rowan Oak.

Exhibit Breathes New Life Into Old Books at UM Museum, Rowan Oak
Artist Brian Dettmer on view Mar. 10 – Dec. 5
OXFORD, Miss. – The University of Mississippi Museum and Rowan Oak present a new exhibition of artwork by New York-based artist and book sculptor Brian Dettmer. "Hardcovers and Paperbacks" will be on view Mar. 10 through Dec. 5, 2020 at both locations.
"Not only is this the first show ever of an internationally-acclaimed artist to be exhibited dually at both the Museum and at Rowan Oak, but Brian occupies a position in the art world of a unique technique and approach to sculpting of hard cover books, and the international acclaim that goes with being a pioneer and visionary," said Robert Saarnio, director of the UM Museum.
Dettmer's work is a response to the recent cultural shift in the way information is gathered and accessed. He values the book and uses it to explore issues of accessibility, permanence and truth. Dettmer uses preexisting books, usually retired reference books, to create sculptures and other forms of media, all without moving or relocating any pages in the book. He begins by sealing the edges of the book and then uses knives and tweezers to carefully carve around the images or words he finds interesting and wants to display. Dettmer describes his work as "both archival and anti-archival," and that he resurrects the contents of books that would otherwise be thrown away.
"Information is the raw material of today. We have an overabundance of text and imagery constantly at our fingertips. In digital media, it is often as fleeting as it is abundant," Dettmer said. "Reference books have become almost extinct in less than one generation and we are at a pivotal time in the way we record and distribute facts."
His work is in the permanent collections of the Smithsonian Museum; The Art Institute of Chicago; The High Museum, The Museum of Contemporary Art in Georgia, and the Yale University Art Gallery.
The University of Mississippi Museum is located at the corner of University Avenue and 5th Street. The galleries are open Tuesday through Saturday from 10 a.m. to 6 p.m. and admission is always free. Rowan Oak is open Tuesday through Saturday from 10 a.m. to 4 p.m. and Sundays from 1 p.m. to 4 p.m. Admission to the house is $5 per person. The Rowan Oak grounds and Bailey Woods Trail are free and open to the public daily from dawn until dusk.
For more information about upcoming exhibits, events and the permanent collection, visit museum.olemiss.edu or 662-915-7073.