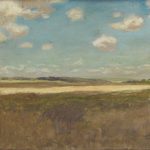 MARCH 28–JULY 22, 2017
Reception: Tuesday, March 28, 2017, 6–8:00 p.m.
This exhibition pays tribute to a prodigious and prolific female artist from Holly Springs, Mississippi. It seeks to reintroduce Kate Freeman Clark's work to the history of American painting by drawing attention to the ongoing restoration of her career and her canvases.
JANUARY 10–APRIL 29, 2017
Reception: Tuesday, January 31, 2017, 6–8:00 p.m.
James and Lucy Lo photographed the intricately painted and sculpted Mogao and Yulin Caves from 1943-44. Their images transcend the standards of documentary photography into pure artistry.