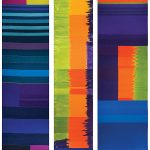 OCTOBER 3, 2017–FEBRUARY 3, 2018
Opening Reception: Tuesday, October 3, 2017, 6–8:00 p.m.
Inspired by climate change, land shifts, and archetypal symbols, the tapestries in this collection are rendered in the obscure technique of weft ikat. The color saturated exhibition also includes collographic works on paper.
AUGUST 22 – DECEMBER 9, 2017
Reception: Thursday, September 14, 2017, 6–8:00 p.m.
part of the Annual Membership Party
Unwritten Memoir reflects the visual memory of Turkey, Japan and the American South over a fifteen-year period for Randy Hayes.