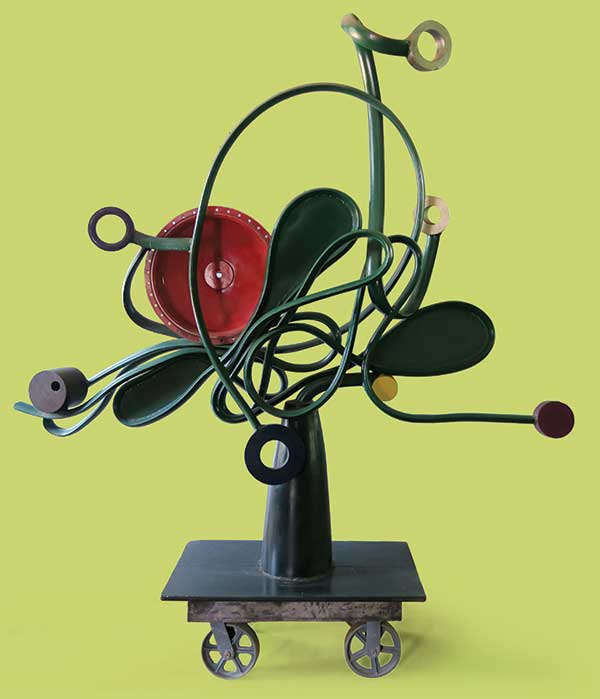 The Wedding Dance, 2014
August 21–December 8, 2018
Opening Reception: Thursday, September 13, 2018, 6–8:00 p.m.
Evening with the Artist: Thursday, November 8, 2018, 6:00 p.m.
George Tobolowsky's series of metal sculptures, A Long Road Back, range from abstract winding forms to representational subjects. The artist's incorporation of bold colors and found metal scraps create delightfully unexpected outcomes that pay tribute to modernist sculpture. Tobolowsky's works will be on display inside and around the Museum, as well as throughout Oxford and the UM campus.
The University of Mississippi Museum would like to thank Earl Dismuke for his assistance in securing site locations and installations of these outdoor works.
Map and key to sculpture locations are below or can be downloaded as a pdf here.
Follow our interactive tour on your mobile device at UMArtAroundTown.com.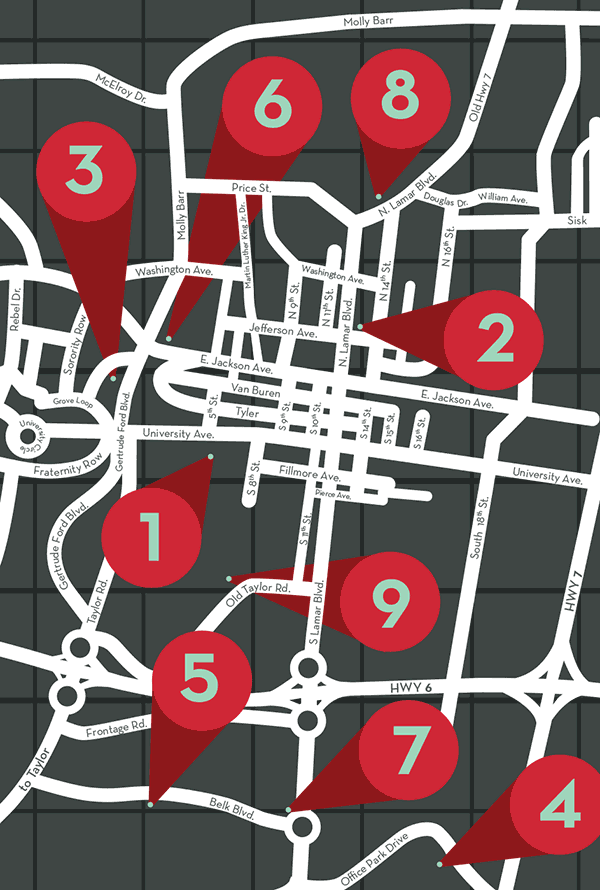 1

The University of Mississippi Museum, University Avenue & 5th Street
Bending the Blue Rules, 2013
Corporate Guardian #2, 2011
On lawn of Walton-Young house:
Drawing on Paper #2, 2011
Drawing in Red, 2012
---
2

The Graduate Hotel, 400 N. Lamar Blvd.
Intersecting Intersections, 2011
---
3

The Inn at Ole Miss 120 Alumni Dr.
Colorful Sustainable Flowers #1, 2016–2018
---
4

FNC, Inc., 1214 Office Park Dr.
Corporate Guardian #1, 2011
---
5

Baptist Memorial Hospital-North, 1100 Belk Blvd.
The Long Green Road to Success, 2016
---
6

Green Roof Lounge at the Courtyard by Marriott, 305 Jackson Ave. E.
The Big Daydreamer, 2014
Little Chief, 2010
---
7

South Lamar Court, 101 S. Lamar Ct.
Chaos Theory, 2015
---
8

Oxford Canteen, 766 N. Lamar Blvd.
Colors of the Universe, 2012–2018
---
9

Rowan Oak, 915 Old Taylor Road
Inside house:
Red/Black Road to the Blue City, 2016